Today I'd like do to a general overview of marbling brushes, what they used to be like, and what they are like nowadays.
The materials used to make marbling brushes were very dependent on the time period they were being made in, the region, and the composition of materials (technology being used).
Since rudiments of paper marbling can be traced back to a very long time ago, (10th c.), and the knowledge of technologies used was transmitted using word of mouth. Talking about that time period (10th to 17th), we usually rely on fragmented knowledge, based on illustrations of old books, miniatures, and some findings made in current times, because they were formed on the basis of old tradition.
The earliest literature mentioning paper marbling in Europe (Kircher, A. (1646), Evelyn, J. (1662)) writes that paint was spattered using a brush, with bristles made of boar hair.
The first known illustration of the process of marbling, published in 1738 Smith, G. book, it is shown that paint is being dripped using a feather, or something that closely resembles it.
Dossie, R. (1758) also notes a feather or a pencil/stick as means to carry paint over to water. A large contribution to unveiling the secrets of this technique was made by Diderot, D., D'Alembert, J. L., with them releasing "Encyclopedie", which exhaustively describes the different shapes of brushes, and the different patterns that can be achieved with them.
The pictures in the book depict brushes with bristles made from rice straw, and others with pig hair.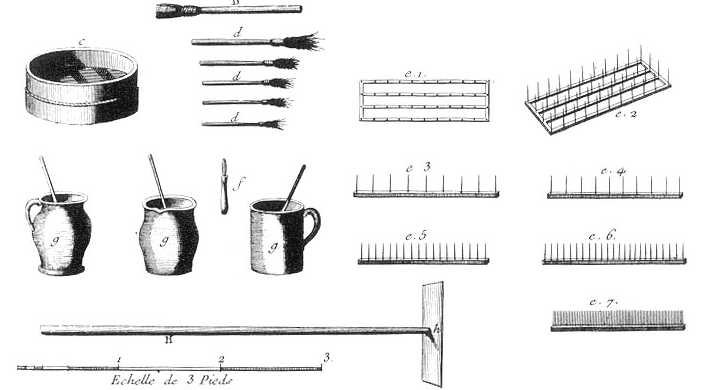 And for brushes being used nowadays,
All brushes used for art are divided into "Soft hair brushes" and "Hog Bristle brushes". Marbling uses Hog Bristle brushes, either natural or synthetic.
Based on the turkish tradition of this trade(ebru), brushes are round in form, with handles made from rose stems (25-30cm long), and with bristles made from horse hair. Such  design ensures that the brush will hold enough paint to cover the full surface of water once, which is key if you want to evenly apply a pattern. The handle has to be long enough, to ensure full control over the brush.
I've noticed masters using flat brushes. They are more accessible, and fairly priced, however I am sceptical. Due to their design, they hold less paint, and its harder to control the location of spatters.
A significant number of masters also use rice stem bundles. They can vary in thickness, depending on the size of the vessel that they're working on. Main advantages of these are – low price, great accessibility and known ecology, however, they can start crumbling at very unfortunate moments for us. Todays masters, especially those that work with acrylic or chemical marbling materials, use plastic brushes of that same design. They're more resistant against erosion, therefore last longer.
In any case, every master chooses his own tools, often developing them according to their habits, understanding, or their technique. If I were to summarize, I'd say that the best brushes are those that bring you the best results!
DIDEROT, D., LE ROND d'ALEMBERT, J. (1768). Encyclopedie, Vol. IV p. 275-6.
ERIS, M. N. (2007). Mustafa Esat Düzgünman. İstanbul Büyükşehir Belediyesi Kültür AŞ.
MIURA, E. (1991). The Art of Marbled Paper: Marbled Patterns and How to Make Them. Kodansha International.
WOLFE, R. J. (1990). Marbled Paper-Its History, Techniques, and Patterns: with Special Reference to the Relationship of Marbling to Bookbinding in Europe and the Western World, Philadelphia: University of Pennsylvania Press.